The "Diabolical Angel" was a Boeing B-17-G, S/N #43-38541 (SC-F) flown by the 612th Bomb Squadron of the 401st Bomb Group, 8th Air Force USAAF.
The Diabolical Angel served nearly 60 combat missions over Germany and elsewhere while based in Deenthrope England from 8/1944 to 6/1945.
A friend of mine had this jacket in his collection. I always was fascinated by it. A personal item like this is extremely rare to find. It's possible that one or two other Diabolical Angel flight jackets exist as well.
8th Air Force Insignia
Mission markers, swastikas perhaps denoting confirmed enemy kills, "B" perhaps for missions over Berlin, Germany.
One of the most striking features of this jacket: Size Small. The brave men who flew these planes were very young.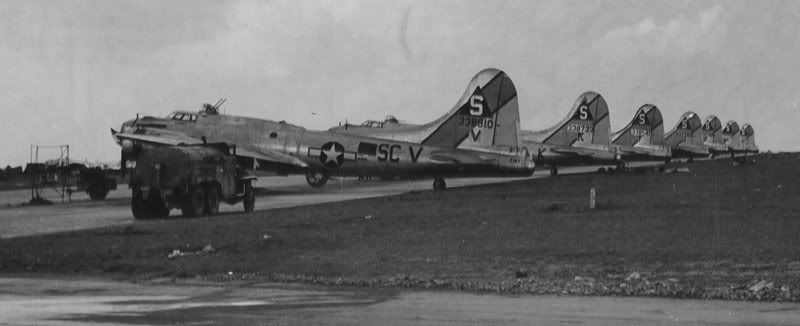 Diabolical Angel (SC-F) is actually third from the front, but all had similar markings.
A Crew of the Diabolical Angel.